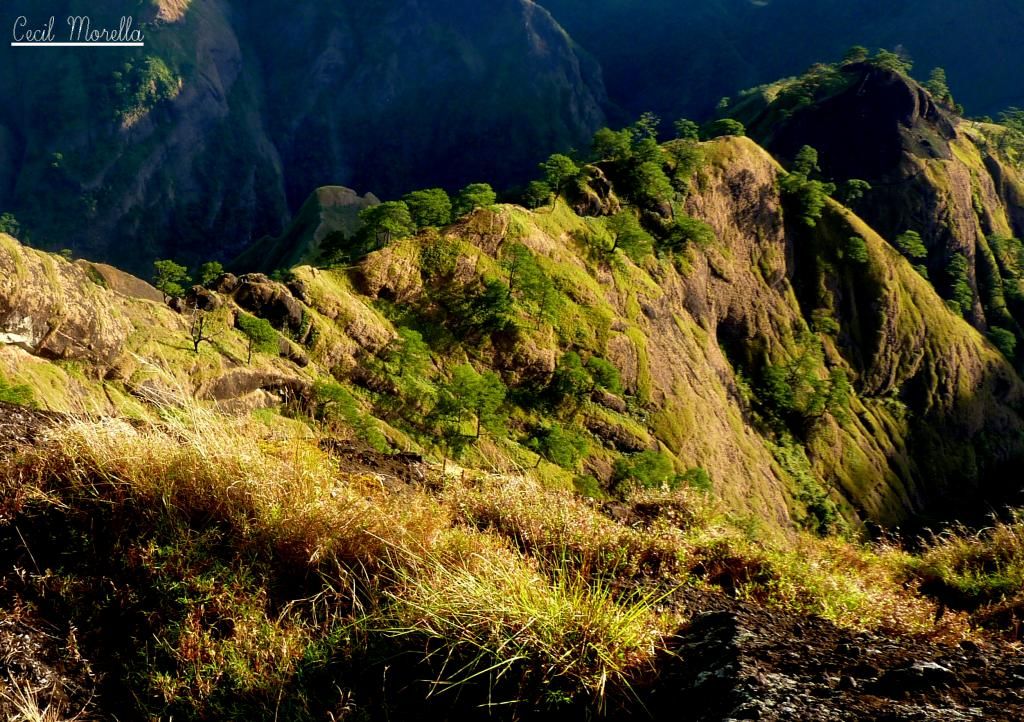 The walls are black, weathered and mostly bare, as if they had been carved by a giant chisel and then thrown into a wood furnace for hardening. The frighteningly narrow fog-drenched ridges at the top are studded with giant rocks of the same colour, and silent steel footbridges and rusting chicken wire garlanded with cobwebs span the more forbidding sections, as if afloat in a white soup, giving the place an eerie, graveyard feel in a humid mid-afternoon while 25 souls laboured across with big packs, silently praying they would not commit a potentially fatal misstep into the void.

The immediate objective was to pass the long Mount Kabunian ridge safely and reach the wind-lashed camp site on its forehead, about 1,700 metres above sea level, before dark. The ultimate prize was to find the now-overgrown ridge trail that would connect Kabunian, in the municipality of Bakun, to 2,030 masl Mount Tagpew, just five kilometres south as the crow flies to nearby Kibungan town, but may be a day or more worth of walking for mere humans.
Our team leader Alman started pitching the idea of a three-day traverse hike across two of the most beautiful towns of the Cordilleras late last year, which later on crystallised as a New Year's Day climb for a manageable number of members and a guest. Most had not set foot on a mountain using their own two feet since November 1, when our club AMCI did a pioneering traverse of Kalatungan and Kilakiron in central Mindanao.

The Cordillera highlands are connected by a cobweb of mountain pathways linking villages from one narrow valley to the next surrounding ones, much like the ingeniously constructed irrigation ditches that water the region's famed rice terraces from springs upstream. The younger folk might have forgotten some of the trails through the forests as the government has built more and better roads for the mountain peoples, but they remain there as part of the Igorot DNA. If I were to do a trans-Cordillera long hike, I would exclusively use these forgotten trails instead of the Halsema highway.

Most of the team knew a thing or two about Kabunian from their training climb back in September, when they had to scale the Bakun trio of Lobo, Kabunian and Tenglawan. However, most had only been halfway up Kabunian, so it came as a surprise for me to find a fenced-off area at the base of the cliff wall that rises to the summit with several wooden coffins. The ancestors of the locals had brought up their dead for an afterlife audience with the Supreme Deity, as the mountain is locally known. Everyone were able to pitch their shelters by the time early dark fell, with me among the last as it took time to find a sheltered hollow for my open-ended tarp. It allowed us the luxury of cooking full, elaborate dishes, one of the things that singles out my club from most others, and to stay awake under the camp kitchens until past midnight, swapping stories, insults, jokes, and spirits as light rain alternated with moonlight.

Most of the older members were familiar with the Kibungan circuit that includes Tagpew, part of many AMCI climbs in recent years. Because of that knowledge the trail was supposed to be a cakewalk. And indeed, it started off through some beautiful mossy forests.
Everyone learns swiftly from experience never to underestimate any mountain though. The local guides soon lost the ridge trail connection and we ended up having to go down a village that according to Alman's GPS is part of the municipality of Sugpon in Ilocos Sur province. After preparing a lunch of soup, pesto pasta and coffee on a leech-infested rocky stream bed there, we began a lung-busting, 700-800-metre ascent back into Benguet via a subsidiary peak of Mount Tagpew through a mossy forest in surprisingly humid conditions that took up most of the afternoon. I ended up gasping for breath trying to match the pace set by Angie, one of the new club members, while Peachy, with her distinct slow-motion cadence, would zip past from time to time, like a diesel truck chugging through a mountain pass. Sometimes you just have to accept that women are superior to men.
Emerging at the edge of the pine stands on the other side, we rejoiced at the thought that we were near the camp site, only to find out that we first had to negotiate three wooded valleys skirting Tagpew's flanks. In one section we had to cross the high banks of a stream using only a giant log bridge.
It was near dusk when we found the last water source, where we loaded up an extra 3.5 litres to use for bathing at the camp, a luxury in Philippine backpacking country where bivouacs are mostly in exposed, windy sites that are bone-chillingly cold after dark.

In the end we had to make an emergency camp at a tree nursery about 10 minutes below the regular camp site, since it was getting dark. With the wind dead and the full moon up a cloudless night sky, I chose to pitch my tarp at the ridge's highest point. The surrounding peaks were swaddled in white cotton fog through most of the night, a sea of clouds surrounding Tagpew's grotesque visage of twisted rocky black whorls, like the tail of a conch shell.

We used the abandoned huts as camp kitchens, where Hadjie, our group leader, prepared vegetables for me and cattle innards for the group's meat eaters. We finished up with bourbon whisky and brie cheese, an unusual but not unpleasant combination. In the morning Nestor, Ren-Ren, Laiza, Angie, Joel, Yoshi and I went for a summit assault after sipping coffee, but were turned back by thick chest-high grass and shrubs near the top. I had summited this peak alone in 2012 using the same trail, the only one I knew, ending up with scratches and torn clothes. On the way down we met one of the guides, who revealed there was actually an open trail to the top from the back side. There was nothing to be done but to begin the trek down to our roadside pickup point through the traditional Kibungan circuit trail that took us past the pretty village church at Legleg and the rice terraces at Palina, an extinct volcano.
We were back in Baguio by 7pm and sipping draught beer by 9pm while waiting for our midnight bus ride down to Manila. Bakun-Sugpon-Kibungan: quite a robust start to the new climbing year, one which I hope to sustain over the coming months, mostly with these same beautiful people or other common friends.